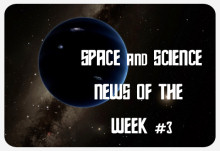 It's only the third week of 2016 and the space and science related news keep getting more exciting all the time – the big headliner this week was the mounting evidence for a Planet Nine in our solar system and the following controversy about it, but there were a number of other notable things happening, including another launch of Blue Origin's New Shepard rocket and SpaceX's thruster hover test of its crewed Dragon capsule and much more. As usual, this is only a very selective overview of what's going on and there's always more over in the WSH Crew Community and the Weekly Space Hangout – I'm just collecting the articles I've posted over on Google+ in my Space & Astronomy category and some additional links from the community. Now, let's see what was going on this week…

» Evidence grows for giant planet on fringes of Solar System (Nature/Alexandra Witze) – The scientist who got Pluto demoted from planethood discovers another planet – well, not quite yet, but the theory that there might be an unknown Planet 9 around in the far outer solar system to account for the weird orbits of the Kuiper belt objects is interesting to say the least – and thankfully far away from any Planet X hyperbole, even if most of the press doesn't think so. This Nature article has the best write-up, Emily Lakdawalla provides another good overview and there are also some disagreements on the topic like Ethan Siegel writes in his article.
» Russia ready to ship Soyuz upper stage, payload to Vostochny – It looks like Vostochny is gearing up to a first launch soon. I'm not sure if Roscosmos is going to move the crewed operation from Baikonur anytime soon, though.
» Pretty pictures: Bittersweet goodies from Cassini at Titan, Enceladus, and Telesto (Planetary Society/Emily Lakdawalla) – Cassini has been making the last trips around Saturn's moons and Emily has all the latest details and images.
» Nudge 'em or nuke 'em: Asteroid defense plans take shape (Geekwire/Alan Boyle) – Some small steps in the right direction – humanity really needs to get organised on this problem!
» Russia Cuts Space Program Budget and Postpones Manned Moon Mission (I4U/Luigi Lugmayr) – First if was definitively on, then it was off, now it's on again but a decade later… the Russian Moon program is definitively in a state of flux.
» Orbital ATK ready for Antares' second life (NASASpaceflight/Philip Sloss) – After an engine malfunction led to the explosion of their Antares rocket in late 2014, Orbital ATK is now back on track using a completely different engine.
» Russian Rocket Stage suspected of suffering In-Orbit Breakup (Spaceflight101) – Apparently those Briz-M upper stages love to explode sometimes. But if it happens in geostationary orbit, it should be a good opportunity to test clean-up methods!
» SpaceX Tests SuperDraco Descent Landing Capability (NASA/Stephanie Martin) – The crewed Dragon capsule is fired up in an impressive hover test – the SpaceX Youtube Channel has the video!
» Jeff Bezos' Blue Origin Rocket Took Off and Landed – Again (Wired/Katie M. Mapler) – The New Shepard has made its second spaceflight – it's exactly the same rocket and capsule that launched late last year. It's something of a smaller scale than what SpaceX does because Jeff Bezos' rocket does not bring anything into orbit, but it's nevertheless an important step in the rocket business and I expect Blue Origin will go very far in spaceflight! There's also a highly produced video of the launch.
» Europe to invest in Sierra Nevada's Dream Chaser cargo vehicle (SpaceNews/Peter B. de Selding) – ESA is getting interested in the Dream Chaser cargo shuttle and has contracted Sierra Nevada to bring up the European docking adaptor to the space station.
» ESA ousts Airbus as space station prime, appoints itself instead (SpaceNews/Peter B. de Selding) – ESA has been reshuffling its business contracts with Airbus for cost-saving reasons… it's all a bit complicated.
» Branson ribs Bezos and Musk over space ventures (GeekWire/Alan Boyle) – There's a German proverb that loosely translates as 'When two people quarrel, a third one rejoices' – but I think the competition will boost private spaceflight a lot in the coming years. And as Alan Boyle mentions, there's also Paul Allen…!
» Video of the Week: Phil Plait's final episode of Crash Course Astronomy – You can also watch the 45 previous episodes, of course!