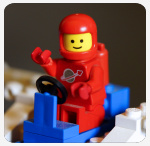 I've never made it a secret that I love Lego a lot. I grew up in what was possibly the golden age of Lego in the early and mid-1980s when it was all bricks, few special parts and lots and lots of fun sets from big houses and castles to little inexpensive things that were perfect in-between gifts. I must have had some Duplo when I was very little, but there is no trace of that anymore – although there was also the short-lived Fabuland series that still exists in my posession. I had a lot of Lego back then, which was mixed with Playmobil too… and as I got older, sometime in the late 1980s when the first computers came around, I naturally lost interest and everything was packed up and put into storage. Fortunately, we never got rid of most of my childhood toys, especially the Lego – it was just boxed up and put into the cellar.
Forward to the mid-2000s, when I discovered that there is a way to build with Lego digitally. That was even before Lego's own Digital Designer appeared! The first rudimentary CAD programs made it possible to play with all the bricks you ever wanted in your computer, organised in the semi-standardised LDraw library of parts. I had a lot of fun rediscovering all my childhood lego and building it digitally, especially when the much easier to use Lego Digital Designer came around – but my actual bricks were buried somewhere deep in our cellar. Buying new Lego was too expensive back then and there were no new sets that really interested me.
And then, in 2014, Lego actually released a very interesting set in what was back then called the Cuusoo series of models designed by Lego fans: the NASA Curiosity Mars Rover. It was a small set with barely 300 pieces, but really inexpensive, so I decided to get it. And it was fun getting my hand on real Lego again after 25 years! The model was not easy to build, especially for someone out of practice, but I managed it thanks to the very detailed building instructions. The little rover has been living on my printer as a nice decoration since then and to my surprise, nowadays the out-of-print set is almost worth its weight in gold – originally it cost about €30, but if you want to buy one now you need to shell out something around €500. No, I'm not selling mine!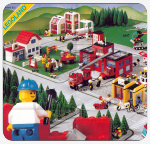 Two years later, in the middle of a very sad year in which my mom passed away and I needed to reorganize everything, I was able to finally dig out my original 1980s Lego from the basement. It was all in boxes and crates, loosely sorted and most of it including the Lego train set seemed to be there. For some months, I simply had no time to tackle sorting through everything, but at the end of 2016 I finally went through everything and discovered that everything seemed to be mostly complete. We also kept almost all of the building instructions and thanks to extensive online databases like Bricklink, I was able to reconstruct which sets I had. There were a lot! Only a handful of big ones, like the early 80s police and fire stations, an airport and a castle. But there were so many smaller sets from the Legoland "Town" series, some of which I didn't even remember but must have had because I found parts of them.
Today, five years after what I call "The Big Lego Excavation", I still haven't rebuilt some of the bigger sets, mostly because of space reasons. But I did put some things back together, like two airplanes and a locomotive which was still partially build inside the big box. I still plan to put at least the Fire Station and the Holiday House back together because I have really fond memories of them. And of course, the Knight's Castle – which I remember building Christmas 1985 on the red living room carpet in the apartment where we first moved in that year and where I still live today. It was the "small" version of the King's Castle from the 1984 knight's set, but checking the parts list from the bigger set I actually discovered that I have so many bricks that I would be able to build the big version too. Maybe one day though!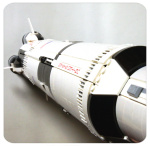 I didn't have any plans to buy new Lego… up to 2018, that is. That is when Lego released the gigantic Saturn V Apollo 11 Rocket… a set with 1969 pieces for only about €120. It had actually been released in Summer 2017, but I didn't get around to buy it until Spring 2018, when it luckily still was available. I remember that I started to build it sometime around Easter and I finished in July – I took my time with it and wanted to enjoy the first really big set. Building was sometimes a bit boring because there are a lot of repetitive steps that come with a cylindrical object, but it was still amazing to see all the interior details that went into this model. The rocket is about a meter high and on first glance doesn't even look like Lego! It now lives on my unused living room desk and thankfully has a small footprint when standing vertical.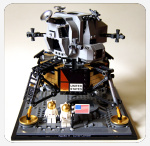 At this point, I thought that was it for new Lego sets. There were a few very interesting ones around like the Creator Expert buildings, but those were really to expensive for my taste. But then Lego again catered to my inner space exploration nerd in 2019 with the Apollo 11 Lunar Lander – not an overly large set with slightly more than 1000 pieces, but at only €90 really inexpensive. This was an absolute must-have for me and I ordered it almost as soon as it came out. I turned it into another multi-week build only working on it on weekends, but it was again a lot of fun putting it together and it looks great next to the Saturn V – which actually has a miniature lunar lander included too!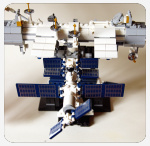 Again, more than a few months went by without any really interesting Lego sets showing up, but then shortly after Christmas 2019 Lego announced a brand-new International Space Station. It wasn't the first one Lego had released – there was already a small 2003 set – but this one looked simply amazing and also wasn't very expensive. This time I decided not to order it, but go to the Lego Store in our neighbouring city Essen, where I was able to get one for only €80. For several reasons, among them the stress of the Coronavirus pandemic, I never put it together until over a year later. I thought it would be the last Lego space set I'd ever buy and I wanted to build it on a special occasion. That occasion manifested itself unexpectedly in early 2021.
There were rumours that Lego was going to continue the NASA sets and they turned out to be true: for the 40th Anniversary of the first Space Shuttle launch the Discovery was chosen, specifically the STS-31 mission that launched the Hubble Space Telescope in 1990. The set was going to be huge with over 2300 pieces and the largest spaceflight set ever released – but not the most expensive one, costing only about €180. There would even be a decently sized Hubble Telescope included fitting into the payload bay of the shuttle! This was definitively worth buying and of course I had to get it. I would have loved to go to the Lego Store in Essen again, but sadly Corona got in the way – instead I ordered it online directly from the Lego shop. It took a while to arrive, which meant I was able to build the ISS first that had been untouched in the box for more than a year.
As I'm writing this article, the Discovery is still unfinished because I only build on weekends when I really feel like it. But I've documented the building process with timelapse videos: the first three parts are already online in my Youtube Channel: the prelude with the Hubble Telescope and Parts One and Two of building the shuttle itself. I think it will take at least two more sessions, if not three to complete the shuttle, but I'm not in a hurry. The videos might be sped up by a factor of 5000, but you can see that I have a relatively leisurely building speed.
To get out of what by now I call the Corona Slump, I'll continue with a few Lego articles here soon – and you can always subscribe to my Youtube Channel where I will be uploading new videos or have an eye on my Facebook, Twitter or Instagram accounts where I usually post everything that appears on my websites too.