Archive Lucasarts
Originally, this post was going to be a lament that I have Return to Monkey Island in my Steam library but couldn't play it yet because my graphics card isn't good enough. Which was actually true until last weekend because the AMD Radeon 6850 I've had for a while was just a tiny little bit too old. DirectX 12 turned out to be the culprit as expected, but I wasn't really in a hurry to get something better. But now I did something about it and managed to snag an AMD Radeon R9 270X on eBay. It took a while to arrive because of the long weekend but now it's here and yesterday I operated on the computer again… and now I'm back on Melée Island!
Return to Monkey Island has turned out to be an absolute marvel. I have already completet the first act, exploring a familiar, but also slightly different Melée Island once again. It feels like 1990 again, only on a huge cinematic screen in high definition instead of slighly blurry pixels on a flickering 14″ tube monitor. The heart and spirit of Monkey Island is very much present and you can feel that this game is a labour of love much like Thimbleweed Park was. Ron Gilbert, Dave Grossmann and their team have hit the right spot perfectly. I will probably write a full review sometime, but now I'm just enjoying the game a lot and will play through it without any hurry.
It wasn't altogether simple because I also had to put in a second harddrive and install a separate new Windows 10 system on it, but it worked. My concerns about the old Athlon X4 II 640 CPU were thankfully wrong and the new graphics card did the trick! This computer with its more than 10 year old components in a 20 year old case is now not a gaming potato anymore! Many other games now run much better and some that didn't even start before are now working.
But for now it's back to the Caribbean and see what shenanigans Guybrush Threepwood is up to!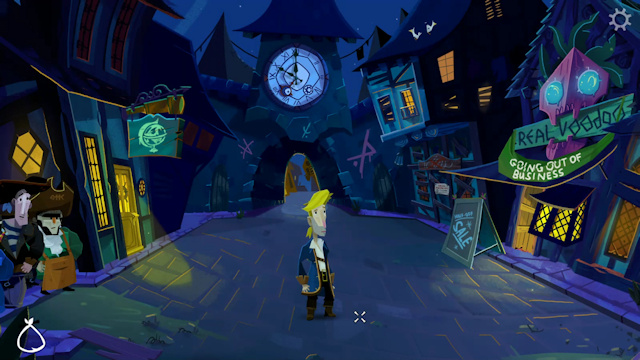 I totally forgot that Gamescom is happening down in Cologne… and that means this week we found out the release day of Return to Monkey Island! Everyone expected it to be sometime in November or even for Christmas, but Ron Gilbert and his team are having a laugh again and chose (of course) Talk Like A Pirate Day on September 19. That is less than a Month away!
Unfortunately that means that this will be the last thing I'll be writing about the new Monkey Island adventure for a while. I've had a look at the system requirements and as expected it doesn't look good for me – I need at least a new graphics card, but hopefully the old AMD CPU will still work. This computer can run Astroneer and Planet Zoo for example, so it can't be that difficult.
I'm still going to preorder the game, of course – it's only €23 and that is a really reasonable price. Maybe it still runs, but I suspect DirectX 12 will be my nemesis – but I have patience and I'm still only into Part 2 of 5 of my Tales of Monkey Island replay!
[UPDATE: As expected… my computers are not up to it, even though the system requirements are really really low – but the minimum required graphics card is a Radeon HD 7750 while I only have a 6850 at the moment. Missed it by that much! Next month I'm going graphics card hunting on eBay…]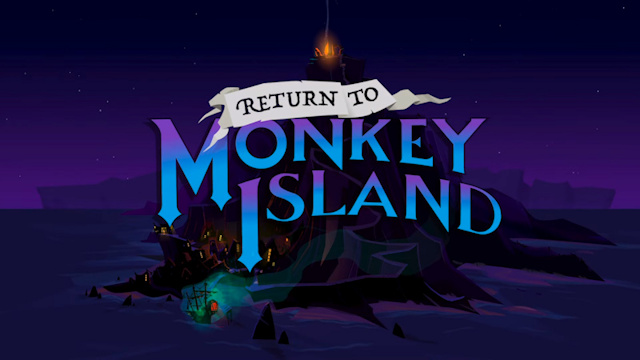 Same island, different age.
A new trailer for Return to Monkey Island dropped in late June and it's wonderful. And the game website has been updated too with more exciting information that looks very promising! Stan trying to sell the game! Guybrush narrating his story in the trailer! The return of Dominique Armato, who became the voice of Guybrush Threepwood 25 years ago! A hint of a new story! A first look at the characters in motion! A full-blown orchestral music score! It's all very fun and nostalgic and refreshingly new.
Continue reading »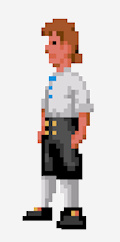 It was April 1st a couple of weeks ago and given the current state of affairs nobody was really in the mood to make April Fools Jokes anymore. Even when games designer Ron Gilbert, who surprised everyone with Thimbleweed Park a few years ago, made a seemingly lame joke about a new Monkey Island adventure on April 1, nobody thought much of it.
Except it wasn't a joke! Three days later the adventure gaming world was upside down after an official announcement confirmed with a short trailer that RETURN TO MONKEY ISLAND is in fact real. Apparently Ron Gilbert has been working together with Dave Grossmann, his old friend from the Lucasfilm Games days, for two years on the project in complete secrecy!
Continue reading »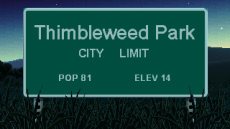 Two years ago, I wrote an article about Thimbleweed Park, the Kickstarter-funded adventure game project from Lucasfilm Games legends Ron Gilbert, Gary Winnick and David Fox – and then sadly never got around to mention it again. In the meantime, the game has been successfully developed – which was extensively documented on their website – and finally released this Spring. Ironically, I was not able to play the game in its PC version because, despite its retro look, the engine has some requirements in the graphics department that made it impossible to run on my aging computers! But recently, more than half a year after the initial release, the Android port has finally been released and to my delight it runs on my tablet and phone. Time to go back to 1987, which is very appropriate since 2017 is the 30th Anniversary of Lucasfilm Games' first point-and-click adventure Maniac Mansion!
Continue reading »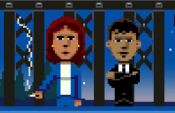 More than 25 years ago, they made great adventure games for Lucasfilm Games. Now they're getting the band back together.
That's right – Ron Gilbert, Gary Winnick and David Fox of Maniac Mansion, Zak McKracken and Monkey Island fame are making a new game called Thimbleweed Park – but it's not just any game. Reminded of their good time they had at Lucasfilm Games, later LucasArts, in the late 1980s when they revolutionized and practically invented the genre of the Point & Click Adventure, Gilbert and Winnick decided to make a "new old game" in the classic style, like a lost Lucasfilm adventure that was never released. Because time is money and creating something like this just as a hobby would be problematic at best, Gilbert and Winnick decided to fund their project with Kickstarter and were greeted with a phenomenal response – a budget of over half a million dollars enabled them to start working on the game in earnest. The kickstarter video trailer was already amazing and it's only going to get better…
Continue reading »