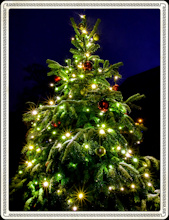 I'd like to wish all family, friends, regular readers, commenters and all other visitors Happy Holidays, Merry Christmas, A Happy New Year or any other Holiday Greetings you prefer! As usual, I prefer Happy Newtonmas because Isaac Newton was born on December 25th, but I'm very democratic in that respect and let everyone celebrate the the holiday they like.
2022 ? I'm not sure I can even describe this year anymore. Corona year three would have been manageable, but then the world literally caught on fire with a war right on Europe's doorsteps. Since February, everything feels slightly surreal because nobody really thought it could get that bad. But with Russia invading Ukraine a massive uncertainty arrived for everyone not only in Germany but all over the world – the resulting energy crisis has been on everyone's mind and has quite a few real life consequences even for those not directly affected by the war.
For me personally, 2022 was a matter of staying as happy and healthy as possible considering the situation by doing lots of selfcare. It feels like I haven't done that much photography this year, but overall I've taken more very nice photos than before and I'm still posting every day over on the Photography Blog. I'm also still busy with the Camera Store which has been doing well this year despite the overall economic problems. Sadly, there was no new Lego, but just because there was nothing really good to buy – I have been looking at some alternative brick manufacturers lately and there may be something interesting in 2023.
Instead I made more music and acquired some new instruments: a new bass guitar that was originally supposed to come last December and an electric guitar which I didn't really had planned to get but then it was on sale for a ridiculously low price. I also got a new mini MIDI master keyboard in addition to my big Yamaha for quick key noodling and a nice guitar effects thingamagic. Both really improved my musical creativity and recording setup for the first time in years so I might even be able to produce some music in the next year! This is all something that will be a subject of further blog posts here, some of which I've had in my drafts for a while.
CosmoQuest has been on a semi-hiatus since October when we did a big Cosmo-Quest-A-Con for fundraising, because the team has had several health issues and there was a lot of reorganizing – but something completely new will happen in 2023! And with many people giving up on Twitter after Elon Musk made a huge mess out of it there has been a big shift in the social media landscape. I haven't given up Twitter completely, but since November I've been active on Mastodon where a completely new wonderful community of scientists, photographers and even retro computer and games enthusiasts is just starting to emerge. This has been giving me a boost of creativity lately and I hope that I can write more here on the blog about all this soon.
Right now I'm of course in Berlin again, I've fled the Ruhrgebiet for two-ish weeks to get out a bit, but the weather is mostly lukewarm and wet this year. I've already been out taking a round of photos, but nothing really exciting so I may as well post these next year sometime. Part of my extended family in Berlin has again been hit with Covid and Christmas vistits have to be postponed to the week after the holidays – I will be lucky if I can even see my cousin's kids this year. But at least there's some peace and quiet, good company and good food.
I'm probably not going to post anything here until at least early January, but of course there will be the usual round of daily photos over on my Photography Blog. You can also also follow me over on Mastodon, where I've been posting a little bit more content than my usual photo crossposts and of course Instagram and Facebook – and maybe Twitter while I'm still there.
Have a nice end-of-year holiday, everyone – and thank you especially to everyone again who helped me to get through this difficult year! You know who you are and it would have been much more difficult without all of you!
MERRY NEWTONMAS AND A HAPPY NEW YEAR!