Archive from October 2021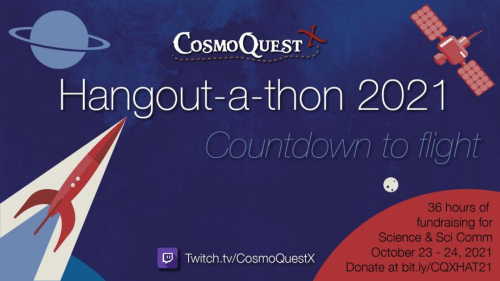 After the Con is before the Hangout-A-Thon!
It feels like we only did the CosmoQuest-A-Con in July yesterday, but it's been three months – and that means we're ready for this year's Hangout-A-Thon starting today! This weekend our team of scientists, science communicators and artists will science for their supper and we invite you to come along for 36 hours of space discussion and edutainment! The schedule is is still in flux, but all information will be provided later today on the Hangout-A-Thon page!
We will have lots of guests, giveaways and surprises – our theme this yeare is COUNTDOWN TO FLIGHT featuring the history of rocketry and spaceflight from the first ancient fireworks to modern spaceflight today. We will even build a rocket park in Minecraft for which you can already sign up!
Our goal is to raise $40.000 in 36 hours, but you can already go to the donation page right now to help us fund our running costs and feed our small team.
Tune in TODAY on Twitch at 16:00 UTC for the opening ceremonies!
ALL EVENTS ARE FREE TO WATCH!
You are not obligated to donate if you are not able to, we know times are difficult at the moment but we still appreciate any form of support even if you are just spreading the word!
UPDATE: Thanks to the generosity of our supporters, we were able to match our funding goal and the future of CosmoQuest has been saved once more! It has also been an amazing show, the CosmoQuest Crew worked so hard over the weekend.
And a short disclaimer because I've been asked this before: I'm an unpaid volunteer for CosmoQuest and I will not receive any money or other compensation from the fundraiser. I will be participating in the stream on Sunday around Noon to help out with the overnight shift and helping out moderating the chat, but that is the limit of my involvement.