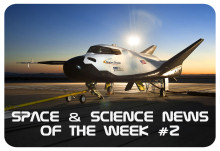 This was another action-packed week of space, science and a bit of science-fiction news – from flowers in space, the mystery of the gravitational waves, the probably return of a sort of space shuttle (which I like so much that I made it the article image this week), a spacewalk shortened by water in a spacesuit helmet again and, just a short while ago, the successful launch of another Falcon 9 rocket, even though the first stage landing failed this time. Oh, and The Martian got two Golden Globes and was nominated for seven Oscars, to throw in a bit of entertainment!
This article is basically a collection of links I posted this week in my Space & Astronomy collection-slash-category on Google+ and in the WSH Crew Community with some updates and added commentary for archiving and those who are not on Google+. The feedback I had over the last five editions was pretty good and I think I can continue doing this on a regular basis. Now let's have some news….

» Scientists struggle to stay grounded after possible gravitational wave signal (Guardian/ian Sample) – So have gravitational waves finally been discovered? Nobody knows for sure… yet. Scientists are careful and as much as I like Lawrence Krauss, his Twitter outbursts are not really helping much.
» Space Zinnias Rebound from Space Blight on Space Station (Universe Today/Ken Kremer) – After mold problems, the Zinnias on the ISS are growing again – and the first one has blossomed!
» 'The Martian' Wins 2 Golden Globe Awards (Space.com/Mike Wall) – Strangely, the movie was nominated as best comedy or musical, but it won this category and Matt Damon took another Golden Globe home for his portrayal of Mark Watney. The Martian has also been nominated for seven Oscars!
» Was The Wow! Signal Due To A Comet? (One Universe at a Time/Brian Koberlein) – It turns out that there were two comets in the region of the sky the signal was detected in way back in 1977.
» Dream Chaser Spaceplane Gets 'go' as NASA awards trio of Space Station Contracts (Universe Today/Ken Kremer) – The age of the Space Shuttle may return soon!
» Roscosmos prepares to launch first manned Soyuz MS (SpaceDaily) – The second crewed Soyuz launch of 2016 will introduce the new Soyuz MS spacecraft, which has already been flying in its cargo variation.
» New Horizons Pluto Mission Leader Alan Stern Wins Carl Sagan Award (Space.com/Mike Wall) – A well deserved award for Alan Stern, who is not only a first-class scientist, but also a brilliant science communicator.
» Astronauts Repair ISS Power System – Spacewalk ends early after Space Suit Water Intrusion (Spaceflight101/Patrick Blau) – The spacewalk was actually rather calmly aborted after Tim Kopra noticed a small amount of water in his helmet, but he was wearing the same suit in which Luca Parmitano almost drowned back in 2013.
» Returned Falcon 9 Booster fires up for Static Fire Test (Spaceflight101/Patrick Blau) – The engine test of the Falcon 9 first stage booster that successfully landed in Cape Canaveral shortly before Christmas was successful apart from fluctuations in one of the engines which could be because of debris ingestion. This is nevertheless a huge milestone in reusable spacecrafts.
» SpaceX launches satellite, then rocket crash-lands at sea (GeekWire/Alan Boyle) – The primary mission was a complete success with the delivery of the Jason 3 satellite into orbit, but the landing of the first stage on a drone barge at sea didn't work out: the video feed cut off moments before the landing and later SpaceX confirmed that the rocket apparently crashed because a landing leg had broken. Considering the very rough seas – the barge was visibly rolling in the video before it broke off – this was not entirely unexpected and the landing was still highly experimental. [Update: It seems that the rough sea was not the problem, but one of the landing legs didn't lock in place and the rocket fell over – but it seems it survived mostly in one piece!]
» Video of the Week: The Weekly Space Hangout, of course!