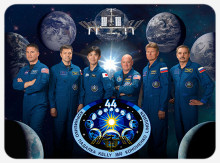 This is another edition of my now regular articles about the crew changes on the International Space Station – this one comes a bit sooner than expected because there has been some slight reshuffling and delays of the crew rotation. After the failed launch of a Progress transporter at the end of April all plans were off, but soon after the situation somewhat stabilized and apart from an actually very welcome extension of Expedition 42/43 everything seems to be back on track now. Tomorrow three Astronauts will return to Earth after a surprisingly long stay of six and a half months, while their replacements will only arrive about six weeks later. As usual, I just like to keep an overview of who is up in space and I hope to continue these articles – the next one may be due in Autumn, but who knows what will happen next!
Who is leaving: Anton Shkaplerov, Samantha Cristoforetti and Terry W. Virts arrived on the station in late November and were originally slated to return to earth on May 14th – but then the failed launch of a Progress transporter on April 28th put everything on hold. This unfortunate event bought the three Astronauts of Expedition 42/43 almost an additional month in space and made Samantha Cristoforetti the first female astronaut to stay more than 200 uninterrupted days in space. They will now return to earth this Thursday, June 11th and while they have been extremely busy during their extended stay, both @AstroSamantha and @AstroTerry are still posting  photos from orbit and Samantha Cristoforetti is also still writing her Logbook on Google+, although not as frequently as she used to because of time constraints – but in return she has been posting a lot of great videos.
Who is staying: The second part of Expedition 43 had arrived on March 27th with Roscosmos cosmonauts Gennady Padalka and Mikhail Korniyenko and NASA astronaut Scott Kelly on board. Kornivenko and Kelly are the One-Year-Crew, who will stay a full twelve months, while Padalka, who will become the station commander after Terry Virts leaves, is going to stay until mid-September. Scott Kelly is also an active Twitter user at @StationCDRKelly, so after Samantha Cristoforetti and Terry Virts depart the station, the ISS will still be active on the social media channels.
Who is launching: Because of the problems with the Soyuz rocket on the failed Progress launch, the next shuttle flight to space has been delayed until late July – a fixed date has not yet been announced, but it will be sometime between July 23 and 25, creating a gap of about six week in which the ISS crew will consist only of three people. The astronauts going up will be Kjell Lindgren from NASA, Oleg Kononenko from Roscosmos and Kimiya Yui from JAXA – while Kononenko has been twice before on the ISS on half-year missions, it will be the first flights of both Lindgren and Yui. They will be staying nearly six months until early 2016 on the station.
There will also be an in-between-mission in September, which got some bigger press attention after singer Sarah Brightman gave up her seat as a space tourist for a 10-day-stay on this flight. No replacement has been yet announced, but the flight will happen in any case because the crew rotation has to continue with bringing up Roscosmos astronaut Sergey Volkov as a replacement for Gennady Padalka. ESA Astronaut Andreas Mogensen is also slated to stay for ten days on the ISS and then leave together with Padalka and the yet unnamed replacement for Sarah Brightman. This flight is also important to bring up a fresh Soyuz, because the spacecraft can only remain docked for about 200 days before they have to return to Earth.
The last crew launch of the year will be on December 15th, carrying Yuri Malenchenko from Roscosmos, Timothy Kopra from NASA and Timothy Peake from ESA into orbit.
Also launching will be the another SpaceX Dragon freighter on June 26th, with two more slated on September 2 and December 9, while there has been an additional Progress launch scheduled for July 3 in addition to the already planned ones on September 21 and November 19, which were pushed forward one month. There is also a Japanese HTV transporter launching on August 17 and Orbital Sciences has also contracted with ULA to launch their Cygnus transporter to the ISS on an Atlas 5 rocket later this year.
There have also been some smaller, but maybe noteworthy incidents recently involving the maneuvering of the ISS. First there was a report that an attempt to raise the orbit of the ISS had failed, but this turned to be out a software problem and the orbit raising was performed successfully later. But only yesterday there was a report that an uscheduled burn on one of the Soyuz capsules briefly got the orbit of the station out of whack and before the ISS even had to dodge a piece of space debris from an old rocket which came dangerously close. There's certainly never a dull moment in space at the moment!
Meanwhile on the ground things don't seem to be too good for Roscosmos – there have been several news reports that $1.8 billion have disappeared through corruption in the Russian space agency and there's even mention of Russian deputy prime minister calling for its dissolution and the replacement by a new government organisation by the end of the year. How this is going to affect the daily operations is still unknown and since these reports made the rounds in the news nothing more has been heard of it.