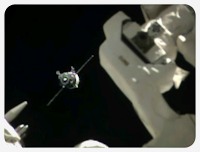 After the supposed "near-catastrophe" that was just a minor navigation problem, a new crew of three astronauts has now finally arrived on the International Space Station. They had to take the long way with 34 instead of 4 orbits, but no one was stuck in space like some of the more sensational news headlines claimed. The docking was actually quite amazing to watch on NASA TV, with the spaceship slowy coming nearer and the final docking even a little ahead of schedule. Videos with the highlights of the docking and the hatch opening and the welcome ceremonies are already up on Youtube. But who's now up there and who has just arrived? I originally wanted to keep tabs on the astronauts regularly since I had written a first article in November, but was so busy to write a followup, so I'll just start again.
Who's up: Already on the station since November 2013 are Rick Mastracchio from the USA, Koichi Wakata from Japan and Mikhail Tyurin from Russia. Both Mastracchio and Wakata have been busy tweeting a lot of great photos from space as @AstroRM and @Astro_Wakata – Rick's recent photo of the Soyuz launch actually made a lot of well-deserved news headlines since! All three are staying about two more months and will be going home in late May.
Who's arriving: The second half of Expedition 39 are Aleksandr Skvortsov and Oleg Artemyev from Russia and Steven R. Swanson from the US, who will be staying until September and have just arrived with the delayed Soyuz flight. Swanson and Skvortsov are on their third and second spaceflight, but Artemyev is a rookie astronaut on his first venture into space. Sadly, the russians are not using any social media (yet?) and Swanson does not seem to be using Twitter either, so when the first half of Expedition 39 goes home and the three become the first half of Expedition 40 waiting for the new arrivals, there could be a short social media outage from the ISS. But NASA has opened up an Instagram account which will supposedly be used by Steven Swanson.
Who's coming: It won't be long until the next personnel change on the ISS when the first half of Expedition 39 is leaving in late May and the next three astronauts go up: Reid Wiseman from the US, Maksim Surayev from Russia and Alexander Gerst from Germany! I expect our media will go nuts over this, but maybe it will bring spaceflight a bit more into the public here again. It's actually Wiseman's and Gerst's first flight and they both have already been extensively reporting about their experiences as @Astro_Reid and @Astro_Alex on Twitter in a very casual and friendly way, so their stay on the ISS will certainly be interesting.
Also notable is the italian ESA astronaut Samantha Cristoforetti, who will be going to the ISS in November and is chronicling her preparations in a detailed logbook on Google+ and is also active on Twitter as @AstroSamantha. Save for Chris Hadfield (who is actually a retired Astronaut now), I only know one other astronaut who is active on Google+: Andreas Mogensen from Denmark, who will be launching in November 2015 to the ISS, but only on a short 10-day-mission.
Last November, I had already made my Twitter Astronaut List public and I've been updating it ever since, so if you want to have a good overview of just about everyone who is, was and is going to be in space, this might come in handy. As usual, you can also watch NASA TV live and recordings and excerpts are always on the NASA TV Youtube Channel and ReelNASA.
That's it for this article – the next one will be coming sometime in late May when the next astronaut changeover is happening!