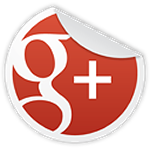 A recent post of a fellow photographer over on Google+ got me thinking about the dynamic of circles and plusses. If a couple of thousand people have you in their circles, you should get an equal amount of plusses, right? It turns out that it doesn't really work that way and the amount of users who have you circled often stands in absolutely no relation to the amount of plusses you get.
I'm not complaining, quite the contrary – but sometimes I wonder why some of my posts seem to attract no attention at all while others are surprising hits. While it's not really all about the plusses, each one means a little more motivation. My experiences can be humorously summed up in this way:
• Post a series about 30-year-old computers: land on the What's Hot list for the first few articles and get more than 400 plusses, but then further articles get almost nothing.
• Post a photo of a 30-year-old computer mainboard: get more than 50 plusses.
• Post your usual photos: get between 10-20 plusses, sometimes a bit more.
• Post a link to a movie review you've worked on for a couple of evenings: one or two plusses maximum.
• Reshare posts of science stuff like awesome hangouts that really matter to me: <crickets>
The last two are actually not surprising, since most of the users who have circled me care about photography, but less about science and movies. I just haven't found the right crowd yet for this, but there are already some signs of improvement lately.
Somewhat puzzling is also the difference between the amount of image views and the plusses – for example, a recent picture of two daffodil blossoms just got 19 plusses, but over 3000 views. One of the photos of a C64 I've used to illustrate a Vintage Computing article almost has 200000 views, but then the post itself also got over 400 pluses. Mostly my photos seem to get between 100 and 300 views, but a couple go into the thousands and don't have more plusses than the others. One problem is that nobody seems to know how the image views are counted – does a view mean a user really clicked on an image and viewed it large or just that it appeared in his stream?
The best method to get noticed on Google+ is, of course, to actually talk to people by having conversations in the comments – if you get to know someone better, you're also bound to give them a plus or two occasionally. While I give out plusses quite liberally for a group of selected people just because I like what they post on Google+, I do not automatically expect them to do the same with my posts. It's not a "I plus you and you plus me" game, but when someone gives me a plus, I almost always take a look at their profile and may also give them some plusses if I like their work. Google+ is all about discovering other people and this is often only the first step. Of course there's a lot more, but I won't even go into the use of hashtags and all the photography themes, because then this article would never end!
Again, I'm not complaining, just observing and noticing, because despite the sometimes erratic feedback, Google+ is a lot of fun and I've learned to know many fascinating people from all over the world whom I would never have met otherwise!