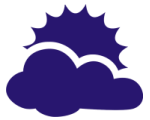 Don't expect any major website updates from me in the next week – it's going to be very hot and my brain is next to useless in these conditions. I'll be posting the usual photos over at the Photoblog, but I'm going to take a break over on DVDLog. I have one major article coming up here, but it could take some time – so, not to let this blog fall asleep, this posting is all about Weather Forecasts on the Web, which are absolutely essential at the moment. Here's my little collection – of course tailored to my location, but it may be useful for other regions too.
WDR Wetter – Mainly for Northrhine-Westphalia, but also for the rest of Germany. Fairly accurate and has very useful satellite images and a precipitation radar.
Wetterkontor – For the whole of Germany, but also useful for local weather and is often more precise than the WDR. The satellite images are not very useful, but the precipitation radar is good.
Sat24 – Also known as Niederschlagsradar.de, has versions for many countries and very good satellite imagery, but a somewhat antique and chaotic webdesign.
YR.no – A Norwegian website providing the best satellite images of Europe on the web, with wondefully smooth animation.
These four websites are the best way to get accurate weather forecasts for Germany, but internationally other sites like Accu Weather and Weather Underground are of course better suited. Most of these website also work very well on mobile browsers, but I have yet to find a really good Android weather forecast app. Any comments, ideas or suggestions are welcome either here or in the postings on Google+ or Facebook!
Note: Icon respectfully borrowed from the weather icon collection of MerlinTheRed @ Deviantart.