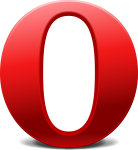 I already wrote about the Opera Browser switching to the WebKit engine a while back in February, but at the beginning of April the story had become even more interesting: Opera is not simply going to switch to WebKit, but will work together with Google on a fork of the open source WebKit code, which is going to be called Blink. This makes a lot of sense and while Chrome and Opera will always remain completely seperate entities, they will be powered under the hood by the same engine adhering to the same standards.
Actually only a part of Webkit called WebCore will be forked to Blink, that actually excludes a Javascript engine, which Google has developed seperately as the open source project V8. This is the engine Opera will also use, and presumably contribute to, in the future. I like Opera because of its unique user interface and features no other browser has, but I must admit that I have been using Google Chrome at the same time especially for Google+ and Facebook, because on my old, but trusty notebook Opera doesn't render these pages as fast and fluid as Chrome. So an Opera browser with Webkit and V8 inside is going to be very handy for myself, but it's also going to make the work of web designers much, much easier. It can also be safely assumed that the look and feel of Opera is not going to change much even after the engines have been switched. Only one thing worries me… what is going to become of Dragonfly, the powerful developer tool of Opera? Since this is geared towards the old Presto engine, it might become obsolete.
There have been no Opera desktop versions with Webkit yet, but the Norwegian browser manufacturer has already released three beta versions of Opera for Android with Webkit implementation. These have become amazingly good and are even on low-powered tablets as fast as the old Opera Mobile, but there is still a bit of work to do on the new user interface. There is no bookmark management, only a barely functioning speed dial and progress indicators are still missing – but the rendering speed and low memory usage are so good that I've almost completely switched to the new Opera version on my tablet.
So Opera is going to have a very bright future with Blink on the Desktop and presumably also on Android devices. Now I'm anxiously waiting for the first Beta of Opera 14 – they're going to skip version 13 not because of superstition, but simply to mark the big internal change. Opera has wisely refrained from giving a specific release date – but I'm sure it is going to happen sometime this summer!