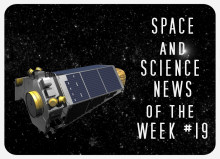 This week's round of space and science news is again a collection of articles posted in my Space & Astronomy Collection on Google+ and in the WSH Crew Community, plus a couple of additional ones that caught my attention. Does SpaceX take the headlines for a fourth week in a row? There were some news from the Dragon splashdown and the booster arrival, but I think Kepler wins this week with the announcement of over one thousand newly confirmed exoplanets and even nine in the habitable zone of their stars. A lot of other things have, of course, happened, but overall it has been somewhat quiet this week – except for a triple-feature hangout Friday! Check the playlists on our WSH Crew Website, there are two new episodes of Astronomy Cast and a great Weekly Space Hangout to watch!

» 1,284 new worlds! Kepler probe sets planet-finding record (GeekWire) – A new method to process the image data from Kepler has doubled the amount of confirmed exoplanets and has even found nine new ones in the liveable zone of their stars.
» No long-term effects from Kepler spacecraft anomaly (SpaceNews) – On a related note, Kepler does not seem to have suffered any side effects from its recent "outage".
» Ariane 6 and Vega C boosters to secure Europe's autonomous access to space (SpaceflightInsider) –
» Recovered SpaceX Falcon 9 Booster Headed Back to Port (Universe Today) – The booster is back and there's a fascinating Timelapse from AmericaSpace from its de-barcation!
» SpaceX Dragon Returns to Earth After Splashdown with Critical NASA Science (Universe Today) – The latest Dragon transporter, the only one that can actually bring cargo back to Earth, has also returned.
» ESA chief says funding for delayed ExoMars rover mission remains uncertain (SpaceNews) – The bad news around the extended ExoMars mission keep coming, but in the end it all boils down to budget problems.
» Winged Telescope Detects Martian Atomic Oxygen (Universe Today) – The SOFIA telescope has made a discovery on Mars!
» NASA working towards September 2018 SLS/Orion launch (SpaceNews) – Who will launch first, SpaceX or SLS and Orion? The first crewed launch might be a private one.
» Hyperloop One zooms through first public speed test (GeekWire) – It's the future, but one German newspaper called it a "ridiculous 1.9 second test" – this is from the country that developed the Transrapid but couldn't get it built here!
» Natural causes, not aliens, explain mystery star's behaviour (Astronomy Now) – The "alien megastructures" are getting somewhat demystified.
» Thanks, Comet Pluto. Solar System Nomenclature Needs A Major Rethink (UniverseToday) – Pluto is confusing astronomers again and it gets really complicated.
» Competing amendments relax restrictions on Air Force rocket funding (SpaceNews) – Of course, it's all about the competition about the RD-180 replacement again.
» House appropriators want Air Force to buy fewer launches next year (SpaceNews) – Space launch politics, continued. But this time not about the RD-180, but about general purchasing of launches.
» Tugboat hauling shuttle tank to California rescues passengers of sunk fishing vessel (Planetary Society) – That's a sea rescue headline you don't ready every day!
» NASA and Roscosmos discuss ISS suicide plunge requirements (NASASpaceflight.com) – This is mostly a discussion about emergency procedures in case the station becomes uninhabitable due to damage – there is no real end-of-life procedure yet for the ISS.
» Super Secret X-37B Nears One Year In Orbit Doing ??? (Universe Today) – Everyone's favourite mystery mini-shuttle has been in space for over a year now again and nobody really knows what it's doing. Personally, I think the Airforce is having a laugh and the X-37B is mostly empty!