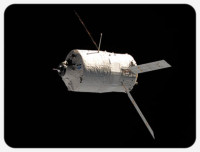 On Wednesday evening, the European Space Agency shot this inconspicuously-looking vehicle into space – it's the fourth of their space freighters, the Automated Transfer Vehicles, which deliver cargo, fuel and other goods to the International Space Station. Number 4 is called fittingly Albert Einstein and will arrive on the station on June 15th. The night launch from the ESA spaceport in Korou was perfect and the vessel is now in orbit catching up to the ISS – and waiting for another unmanned Progress freighter to leave the station so it can dock.
The ESA has made some amazing videos of the launch available: the Launch Highlights are even more exciting than the live broadcast because more camera angles have been used and there are some words from ESA astronaut and space station inhabitant Luca Parmitano at the end. Even more amazing is the on-board video provided by the experimental Sterex camera built by a German company, not only showing the launch, but also the separation of the stages. You've got to hand it to the ESA – their media operations have dramatically improved and the broadcast from the launch and their videos have become even better than those from the NASA.
The launch of ATV-4 would perhaps not gotten any attention in the news, if it wasn't for the fact that it carries some italian food specialities. Actually, there has been an article with the title Luca's lasagne on the ESA blog for months now, talking about the problems of food preparation for astronauts. There's going to be a feast when ATV-4 arrives on the station next week for sure – there's no publicly available shipping list, but several news articles write about lasagna, risotto, parmesan cheese and tiramisu. Hopefully the freeze-dried versions taste as good as the fresh thing. If there's one thing that would keep me from traveling to space it's the food situation!
I also managed a bit of a feat yesterday – I managed to take a photo of the ISS flying over Mülheim just in the moment the ATV was launching from Korou! As usual, in addition to the posting on my own photography blog, I shared the photo on Facebook and Google+ – and on the latter network, to my complete and utter amazement, my photo got re-shared by the ESA in their stream. And it wasn't even such a great photo, the one from yesterday was much better. But still… wow :-).